Built-in LED curing lamp Starlight S SLER®
Starlight s sler® - built-in version for a better curing result
sler® stands for "soft light energy release", a slow decrease of light intensity at the end of the cycle. This patented mectron technology modulates and controls the temperature and shrinkage of the composite, improving its mechanical properties.
Starlight s sler® - built-in version for flexible use
Polymerization with more than 1.400 mW/cm2. The starlight s sler® can be easily built into a dental unit. All the high tech electronics of starlight sler® are integrated in just its handpiece. Easy installation on your dental unit: only power supply and control are needed. The ergonomic handpiece can be positioned simply in the quiver (its holder). starlight s sler® is equipped with 6 different operating modes.
The light-curing light Starlight S SLER® is easily integrated into the dental unit: only power and regulation are required. All high-tech electronics Starlight S SLER® is located in the housing of the lamp handpiece.
There are 6 different light curing modes.
TECHNOLOGY SLER®
Composite temperature and shrinkage relation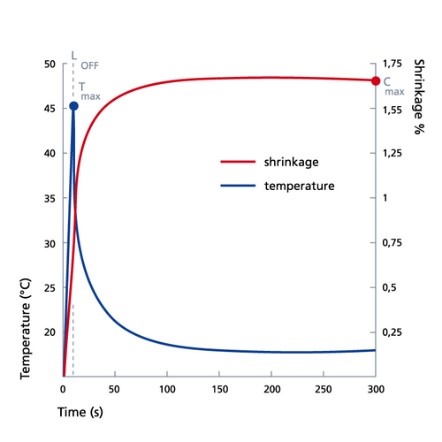 Standard program per 10 sec
In-vitro composite temperature

Comparison of Standard mode (10 sec) and sler mode (9 sec max power and 2 sec constant decrease)
In-vitro composite shrinkage
Comparison of Standard mode (10 sec) and sler mode (9 sec max power and 2 sec constant decrease)
Mechanical strength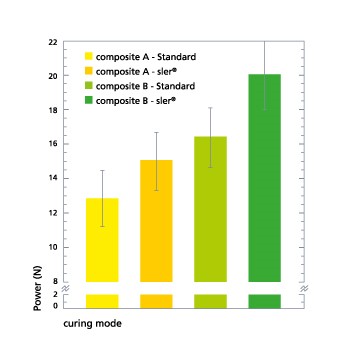 Comparison of different materials (color A2)
Standard effects
Temperature and shrinkage exhibit an inverse relation. Interrupting light exposure stops the energy supply but the curing process is ongoing.
Temperature control
Compared to a standard curing cycle, the sler® technology shows a better thermal control of the curing process. This protects against interface debonding, which may lead to marginal leakage.
Shrinkage control
The sler® technology allows the dental material to relax its shrinkage stress at the end of the curing cycle. This decreases the possibility of micro-fractures both in the composite material and in the dentine substrate.
Mechanical strength increase
Composite materials cured with sler® technology show improved mechanical strength, which contributes to better clinical performances.
OPERATING MODES
The operating modes are selected by pressing the "mode" button. Depending on how long the "start" button will be pressed for, either the short or the longcycle starts. The chosen mode is indicated by LED.
SLER MODE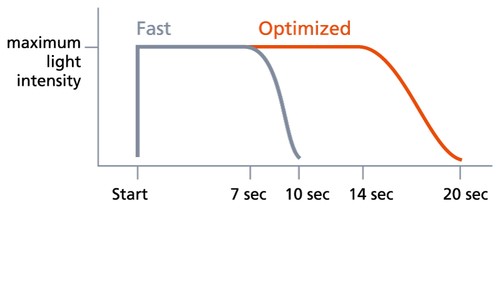 SLER+ MODE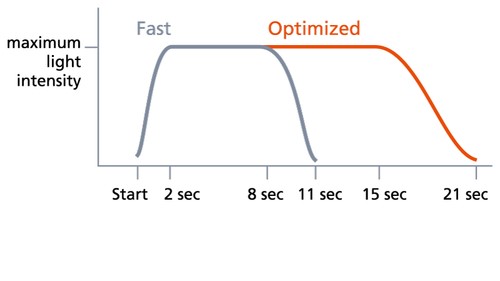 SOFT MODE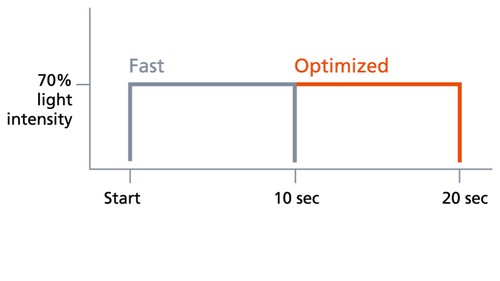 4 colors for is available:
Starlight S SLER (black / black) - 05100062
Starlight S SLER (black / transparent) - 05100063
Starlight S SLER (gray / black) - 05100064
Starlight S SLER (gray / transparent) - 05100065
Device compliant to Dir. 93/42/CEE:
Class IIa
Classification as per EN 60601-1:

II
Type BF
IP 20 (unit)

Power supply voltage:
24 Vac 50/60 HZ
33 Vdc supply double insulation
Max. power absorbed:
9W
Fuses
315 mA T (Not included in the mectron supply)
Device for intermittent operation:
120 sec ON 40 sec OFF
Light source:
High-luminosity LED with optics
Dominant wavelength: 440 - 465 nm
LED light emission: > 1.400 mW/cm2
Average life: 1,800,000 cycles, 20 seconds each
Optical fiber:

Diameter 8 mm
Composition: Drawn coherent fibers surfused in transparent quartz
Autoclave sterilizable (max. temp. 135°C for 20 minutes - max. 500 cycles).

Exposure:
SLER: Exposure time 10/20 sec, SLER function at cycle end
SLER+: Exposure time 11/21 sec, gradual increase during first 2 sec, SLER function at cycle end
SOFT: Exposure time 10/20 sec, light emission at 70% of maximum power
Possibility of cycle interruption or repetition at all times
Operating conditions:
from +10°C to +40°C
Relative humidity from 30% to 75%
Pressure of air P: 800hPa/1060hPa
Transport and storage conditions:
from -10°C to +70°C
Relative humidity from 10% to 90%
Pressure of air P: 500hPa/1060hPa
Weights and sizes
122 g
L 141 mm, max. Ø 25 mm
Warranty
device 3 years
Starlight S SLER handpiece
Starlight S SLER cord
Optical protection
Black optical fiber