Piezosurgery WHITE - ultrasonic device for bone piezosurgery
Manufacturer

Mectron
Application

Ultrasonic device for bone surgery. Replaces more old version of device PIEZOSURGERY® 3
Рабочая частота

from 24 KHz to 36 KHz
Country of original

Italy
Warranty

device 2 years
REF. №

05120063
How does the PIEZOSURGERY White piezo-surgical device support your start?
How this is as easy as it gets. If you are looking for a device which provides simplicity and clarity in every detail – here you are: 100% simple handling for utmost treatment security.
Materials especially selected for easy cleaning, disinfection and sterilization. Cost-effective standard parts for perfect economy.
You call that perfect for daily use. We call it PIEZOSURGERY® white.
CLINICAL ADVANTAGES
sinus lift technique – crestal approach
sinus lift technique – lateral approach
implant site preparation
mini dental implant site preparation
extractions
explantation
ridge expansion
corticotomy techniques
bone block grafting
bone chip grafting
bone modeling
endodontics
osteotomy close to nerves
periodontal surgery
implant cleaning
CLINICAL ADVANTAGES FOR DOCTOR
When you need to cut a bone, of course, you can use traditional tools: burs and saws. They also cut the bone, but are not limited to mineralized tissue: the soft tissues that they encounter on their way will also be cut.
Special ultrasonic microvibrations generated by the Piezosurgery device allow cutting the bone and nothing more. Soft tissues remain intact, which allows you to work with greater accuracy, confidence, less stress and reduce discomfort for the patient.
And if you were looking for a tool that has the utmost precision, great control and minimal stress on both you and the patient - here it is! Piezosurgery Touch!
Micrometric cuts
Piezosurgery Touch allows micrometric cuts to be made with maximum surgical precision and high intraoperative tactile sensation.
Selective cuts
Piezosurgery Touch protects soft tissues. Nerves, vessels and membranes will not be injured while cutting bone. Thus, the device provides maximum safety for the surgeon and patient.
Cavitation effect
Piezosurgery Touch provides maximum intraoperative visibility. The effect of cavitation creates a blood-free surgical site.
PATIENT'S ADVANTAGES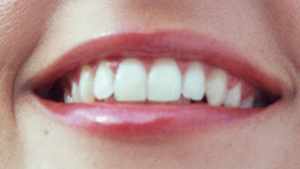 HISTOLOGICAL RESULTS
Comparative studies have demonstrated both the clinical and histological advantages of the PIEZOSURGERY device.
Macrovibrations - bone bur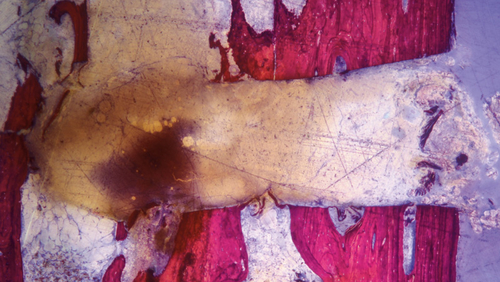 limited surgical control
lack of precision
Macrovibrations - bone saw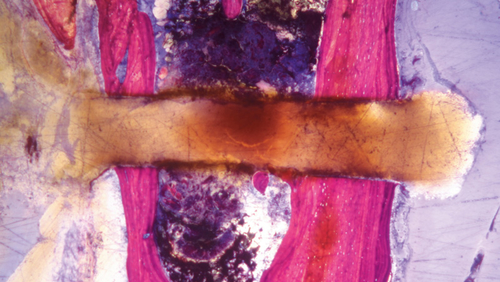 limited surgical control
lack of precision
Macrovibrations - bone saw PIEZOSURGERY WHITE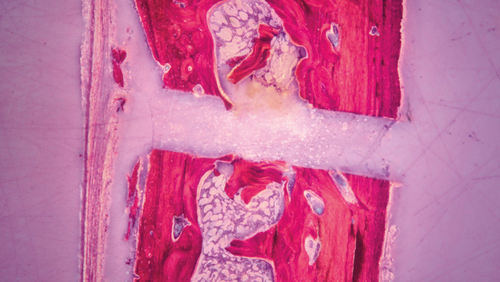 high surgical control
precision and safety
clinical and histological advantages
Scientific study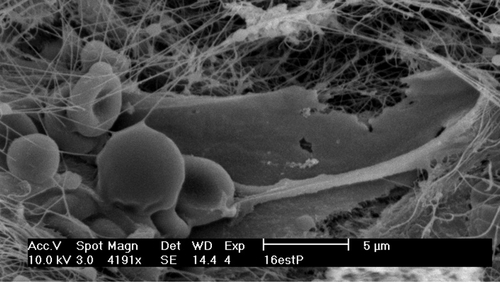 Gleizal A, Li S, Pialat JB, Béziat JL.
Transcriptional expression of calvarial bone after treatment with low-intensity ultrasound: An in vitro study.
Ultrasound Med Biol. 2006; 32(10):1569-1574
TECHNICAL ADVANTAGES
Touch screen control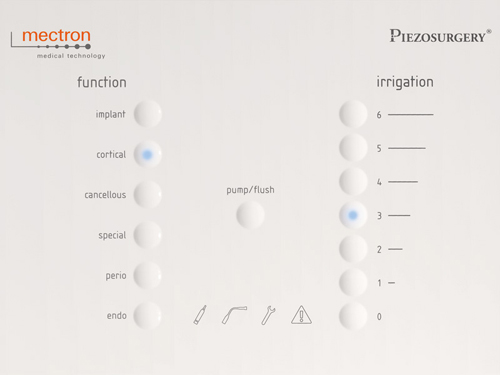 easy to clean
irrigation and power rate chosen by the touch of a finger
Sterile protection foils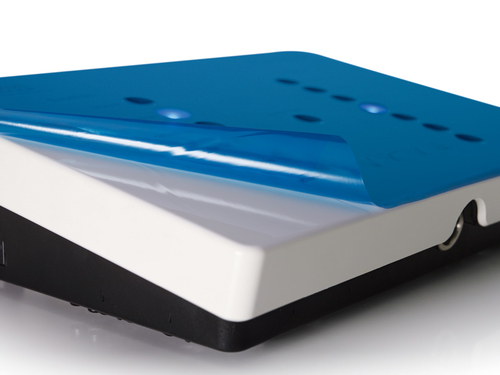 The touch keyboard of the PIEZOSURGERY® white can be protected with a dedicated, individually packed, sterile transparent foil. Thanks to these invisible shields, no dirt, scratches or fingerprints will affect your keyboard.
Flexible handpiece position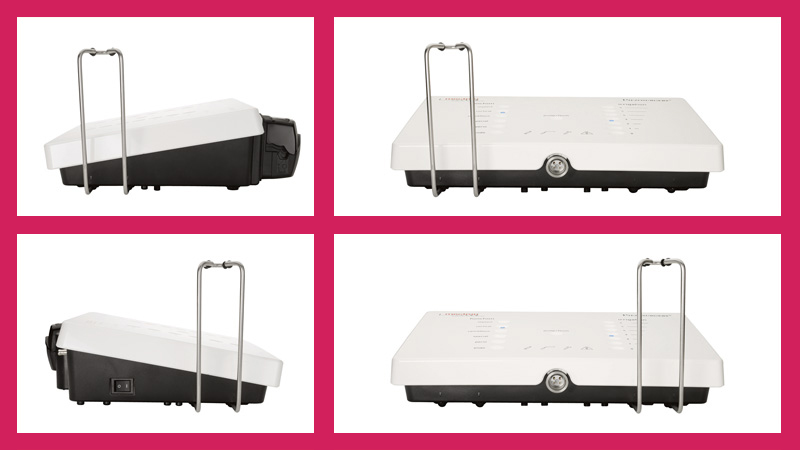 easy to adopt handpiece holder
4 positions
sterilizable
Feedback system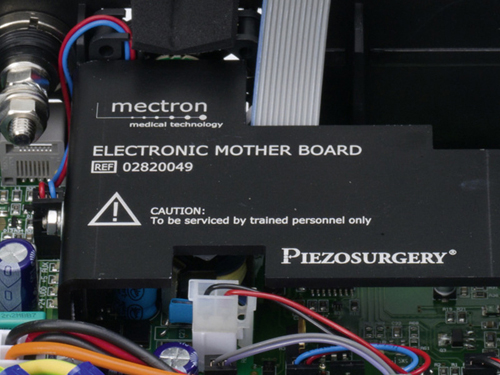 constant and optimal tuning of insert movement
automatically detects if more or less power is necessary and adjusts it accordingly
user intervention is simplified to the push of the foot pedal
Working efficiency
Providing the optimal ratio between power and security is one of the key success factors of every surgery. Thanks to its intelligent electronic feedback system the original mectron PIEZOSURGERY® technology provides the maximum of power and achieves perfect cutting efficacy in every situation – for surgeries which are time-efficient, secure and successful.
Unique handpiece system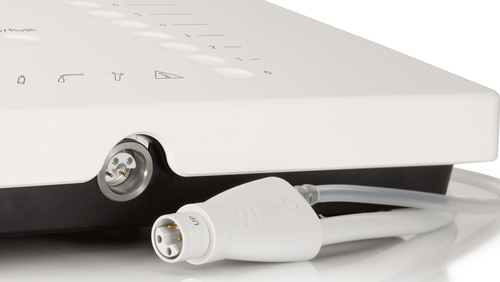 sterilizable, all-in-one handpiece cord system
sterilizable, internal irrigation line, no disposables needed
new handpiece cord coupling protected against mishandling
APC (Automatic Protection Control)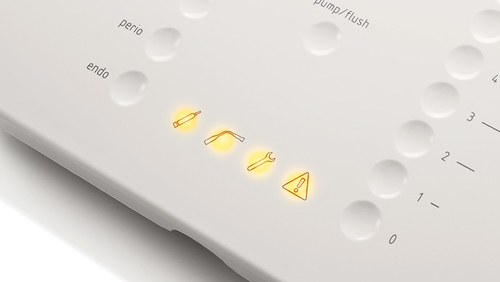 recognizes deviations from standard functioning automatically
stops power and liquid in less than 0,1 seconds
shows cause of the interruption on the keyboard
Flexible irrigation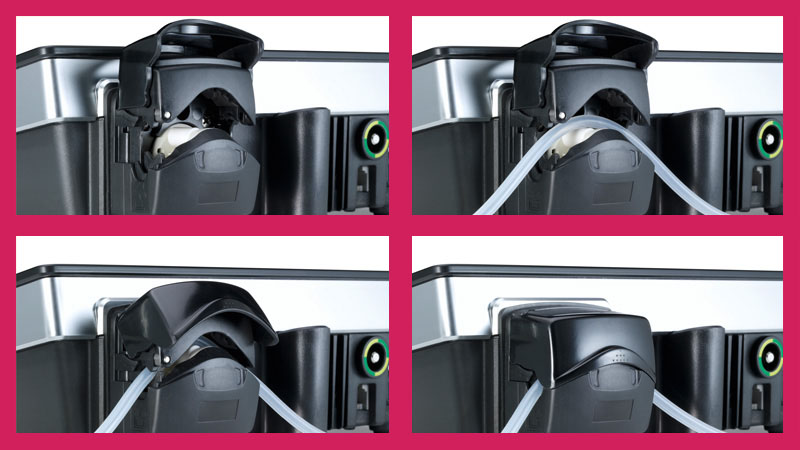 the irrigation system works with cost-effective standard parts
tube of peristaltic pump is reusable
standard connections for tubing
liquid line integrated in handpiece cord
Device compliant to Dir. 93/42/CEE:
Class II a
Classification as per EN 60601-1:
I
Applied part type B (handpiece, insert)
IP 20 (device)
IP X8 (foot pedal)
Device for intermittent operation:

60sec. ON - 30sec. OFF with irrigation
30sec. ON - 120sec. OFF without irrigation (ENDO,PERIO)

Power supply voltage:

100-240 Vac 50/60 Hz

Max. power absorbed:

120 VA

Fuses:

Type 5 x 20 mm T 2AL, 250V

Operating frequency:

Automatic scan
From 24 KHz to 36 KHz

Power types:

ENDO, PERIO, SPECIAL, CANCELLOUS, CORTICAL, IMPLANT
Peristaltic pump capacity:
Adjustable on the touch screen:
ENDO / PERIO - 7 flow levels: from 0 to 6
(from 0 to approximately 75ml/min)
SPECIAL / CANCELLOUS / CORTICAL / IMPLANT
6 capacity levels: from 1 to 6
(from 8 to approximately 75ml/min)
LED system of the handpiece:
LED system of the handpiece switches on as soon as the device starts to operate and switches off 3 seconds after the foot pedal is released
Protections of the APC circuit:

No handpiece detected
Cord interruption
Insert not tightened correctly or broken

Operating conditions:

from +10°C to +40°C
Relative humidity from 30% to 75%
Pressure of air P: 800hPa/1060hPa

Transport and storage conditions:
from -10°C to +70°C
Relative humidity from 10% to 90%
Pressure of air P: 500hPa/1060hPa
Температура хранения:
от -10 C до +70 C
Peristaltic pump tube:
не более 8 циклов стерилизации
Weight:
3,2 kg
Size (L -W - H):
300 x 250 x 95 mm
Warranty:
device 2 years; handpiece and handpiece cord 1 year
Equipment set:
1 PIEZOSURGERY® white unit
1 torque wrench K8
1 suitcase
The ultrasonic tips are not included in the set of the device and are purchased separately.
A choice between handpiece with light: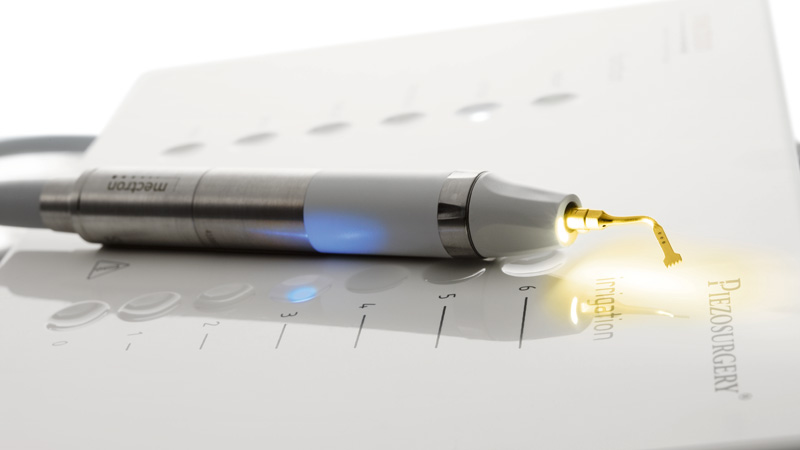 Or handpiece without light: