Ergonomics, multifunctionality, intuition - the key to successful application of ultrasound scaler in dentistry
The ergonomic touchpad of the new ultrasonic scaler Multipiezo TOUCH is made of high-strength glass. Due to this, the device has a strict high-aesthetic appearance, emphasizing your individuality. Control functions are intuitively simple due to the sensor. At the same time, the glass has a smooth surface, which makes it easy to clean and disinfect the device after carrying out the procedures.
Despite all its beauty, the device is a multifunctional dental device for most preventive and therapeutic procedures.
The scaler implements the latest technology for soft, prophylaxis cleaning of teeth. A special mode of operation allows you to control power of the tips, thereby reducing pain of the patient.
Related treatments
prophylaxis - supragingival scaling
periodontics - subgingival scaling
perimplantitis - implant cleaning
endodontics - cleaning of root channels
endodontics - revision of root channels
endodontics - retrograde
restorative - preparation of cavities
restorative - preparation of pits and fissures
restorative - finishing of prosthetic preparations
restorative - removal of old restorations
restorative - removal of excess restoration
orthodontics - scaling
extraction
Irrigation system
Irrigation
no dripping and no leaking
illuminated 500 ml bottle
optional connection to fixed water line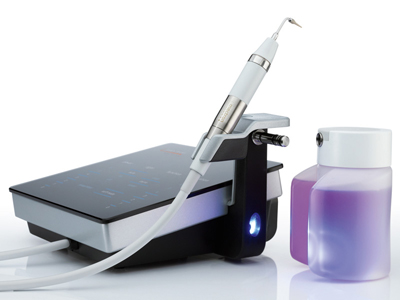 Rinsing with medicinal solution
use medicinal solutions (f.e. H2O2, chlorhexidine)
also very aggressive solutions like sodium hypochlorite for endodontic treatment
liquid lines are cleaned by simply activating the flush function
---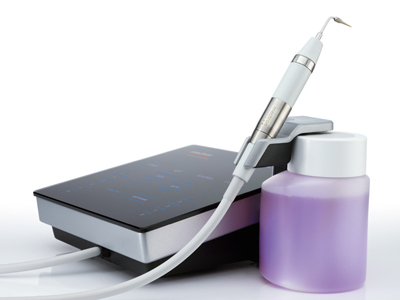 Optional tap water connection
For common supragingival scaling water is a perfectly sufficient coolant. The optional water connection kit allows the connection of multipiezo touch to tap water.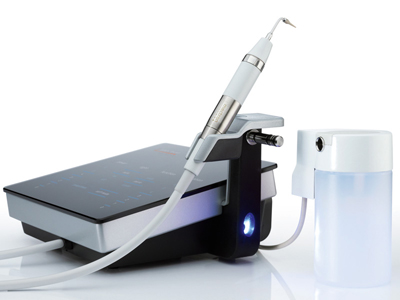 Technical advantages
Touch screen

exclusive glass touch screen black or white
easy to clean
irrigation and power rate chosen by the touch of a finger

LED-handpiece

LED handpiece with new swivel-type light focus
light beam always on the insert tip, regardless of the insert shape
handpiece holder with security switch
Operating modes
Soft mode for gentle ultrasond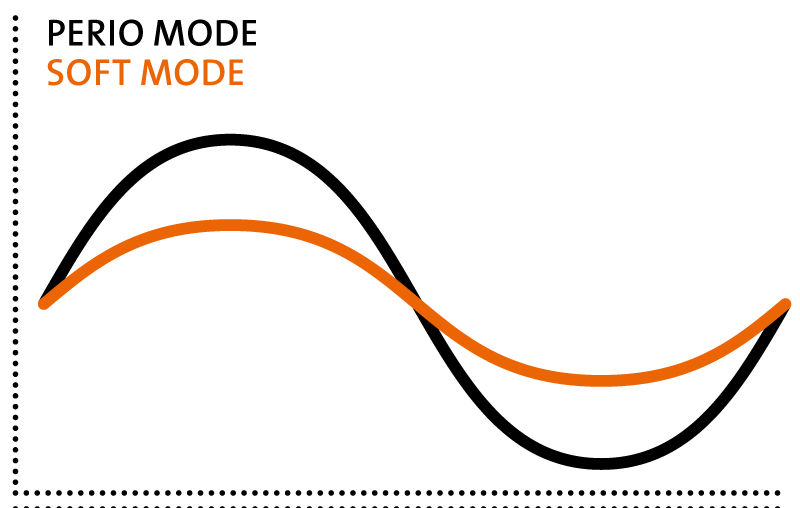 Whenever needed, mectron's innovative software switches the modulation of the ultrasound into its unique SOFT MODE and thus creates a gentle but still powerful insert movement. The result: treatment efforts are met perfectly – sensitive patients treated with maximum comfort.
Pulse mode for restorative treatments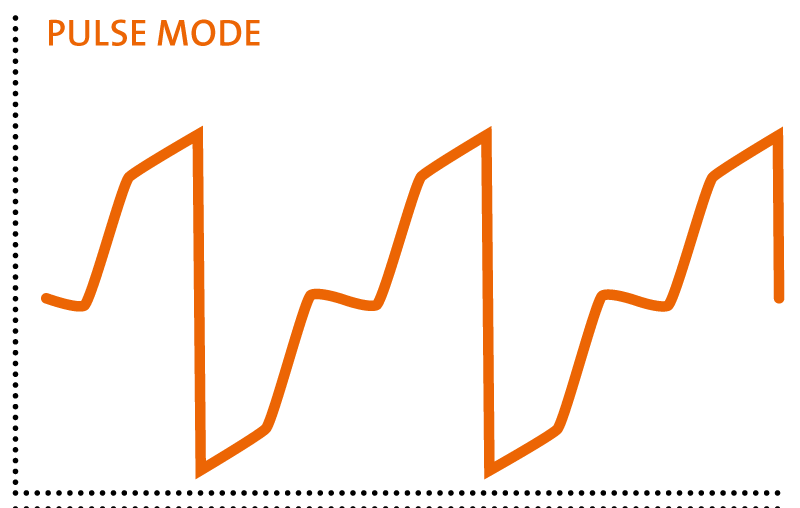 The PULSE MODE transforms the traditional sinusoidal wave of ultrasonic vibration (standard function) into a wave that is characterized by specific power peaks, which leads to an increase in the Multipiezo TOUCH productivity when removing teeth and prosthetics.
Device compliant to Dir. 93/42/CEE:
Class II a
Classification as per EN 60601-1:
I
Applied part type B (handpiece, insert)
IP 20 (device)
IP 22 (foot pedal)
Device for intermittent operation:
55 sec. ON - 30 sec. OFF with irrigation
30 sec. ON - 120 sec. OFF without irrigation
Power supply voltage:
100-240 Vac 50/60 Hz
Max. power absorbed:
90 VA
Fuses:
Type 5 x 20 mm T 2AL, 250V
Operating frequency:
Automatic scan
From 24 KHz to 36 KHz
Power types:
ENDO
PERIO
SCALER
SOFT MODE
Peristaltic pump capacity:
Adjustable on the touch screen:
7 flow levels
from 0 (0 ml/min) to 6 (28 ml/min)
LED system of the handpiece:
Light function on AUTO: LED system of the handpieces witches on as soon as the device starts to operate and switches off 3 seconds after the foot pedal is released
Light function on ON: The LED of the handpiece is always on; after 100 seconds of foot pedal disuse it switches off by itself and the light function moves into position AUTO
Light Function on OFF: The LED of the handpiece is always off.
Protections of the APC circuit:
No handpiece detected
Cord interruption
Insert not tightened correctly or broken
Operating conditions:
from +10°C to +35°C
Relative humidity from 30% to 75%
Pressure of air P: 800hPa/1060hPa
Transport and storage conditions:
from -10°C to +70°C
Relative humidity from 10% to 90%
Pressure of air P: 500hPa/1060hPa
Weight:
2,4 Kg
Size (L -W - H):
320 x 230 x 145 mm
Warranty:
device 2 years; handpiece and handpiece cord 1 year
1 LED ultrasonic handpieces
3 tips: scaling inserts S1 and S6, perio insert P10
2 bottles, 500 ml
2 safety bottle caps
1 torque wrench K6