Scaler + airpolishing tip combined in single dental unit Combi S (2in1)
Multifunctional apparatus designed for the prevention and treatment of teeth. Scaler with ultrasound power monitoring system ensures careful removal of dental deposits. More than 60 ultrasound tips are available for a variety of clinical applications. Air-abrasive processing system with two modes of operation can effectively remove biofilm, remove dental deposits. At the same time, the device is equipped with a periodical function to reduce the pressure of the supplied mixture of powder, air and water.
Perio mode combined with glycine-based powder allows you to gently treat the near-gum area, without injuring soft tissues. A simple click of a button is all that is required to go from one processing mode to another.
Make the right choice of powder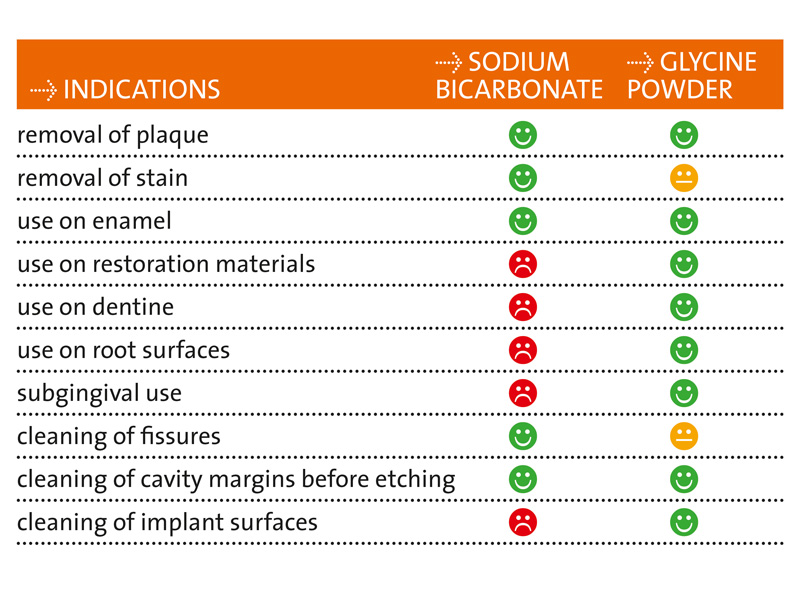 Traditionally sodium bicarbonate powders are used for air-polishing procedures. Used in a proper and not excessively intense manner, the risk of harm to the enamel is minimal. For additional applications more gentle powders have been developed during the last years. Especially glycine, a natural amino acid, opened new indications for air-polishers, the most important being subgingival removal of biofilm.
Related treatments for ultrasonic handpiece (scaler)
prophylaxis - supragingival scaling
periodontics - subgingival scaling
perimplantitis - implant cleaning
endodontics - cleaning of root channels
endodontics - revision of root channels
endodontics - retrograde
restorative - preparation of cavities
restorative - preparation of pits and fissures
restorative - finishing of prosthetic preparations
restorative - removal of old restorations
restorative - removal of excess restoration
orthodontics - scaling
extraction
Technical advantages
New PERIO-function

The combi s is equipped with the new perio function. Simply pressing a button adapts the air pressure to provide for safe subgingival treatment with glycine powder.

Ultrasonic piezo scaler

The ultrasound of combi s unit operates according to the piezoelectric principle. The inserts apply planar backwards and forwards vibrations, shifting the tartar gently sideways. The patient does not feel any unpleasant hammering movements on the surface of the tooth, and the dentist can work more easily and in greater comfort.

Scaling, perio, restorative dentistry – the combi s can be used for an extraordinary variety of applications.
Device compliant to Dir. 93/42/CEE:
Class II a
Classification as per EN 60601-1:

II
Type B
IP 20 (device)
IP 22 (foot pedal)

Device for intermittent operation:
60 sec. ON - 30 sec. OFF with irrigation
30 sec. ON - 120 sec. OFF without irrigation
Power supply voltage:
230 Vac 50/60 Hz
120 Vac 50/60 Hz (optional)
115 Vac 50/60 Hz (optional)
100 Vac 50/60 Hz (optional)
Max. power absorbed:
95 VA
Fuses:
230 Vac - Type 5 X 20 mm T 500 mAL, 250V
120 Vac - Type 5 X 20 mm T 800 mAL, 250V
115 Vac - Type 5 X 20 mm T 800 mAL, 250V
100 Vac - Type 5 X 20 mm T 800 mAL, 250V
Operating frequency:
Automatic scan
From 24 KHz to 36 KHz
Power types:
Adjustable to 4 pre-set levels
Water supply:
Polisher function: stepless adjustment, water heated by built-in heater
Scaler function: stepless adjustment
Connection by hose supplied with quick-coupling connector through a built-in removable filter.
Working pressure from 1 to 6 bar
Air supply
Connection through supplied hose with quick- coupling connector through a built-in filter and pressure reducing valve.
Input pressure between 4 and 8 bars.
Working pressure:
Prophy function = 3,5 bar
Perio function = 2,7 bar
Protections of the APC circuit:

No handpiece detected
Cord interruption
Insert not tightened correctly or broken
Protection by discharge to earth

Operating conditions:
from +10°C to +40°C
Relative humidity from 30% to 75%
Pressure of air P: 800hPa/1060hPa
Transport and storage conditions:
from -10°C to +70°C
Relative humidity from 10% to 90%
Pressure of air P: 500hPa/1060hPa
Weight
3,5 Kg
Size (L -W - H)
280 x 185 x 100 mm
Warranty
device 2 years; handpiece and handpiece cord 1 year
combi s
ultrasonic handpiece
basic kit equipped with: scaling inserts S1, S2, S3 and 1 high-efficiency scaling insert S6
torque wrench
spray head
bottle of mectron prophylaxis powder, contents 250 g
spare water filter